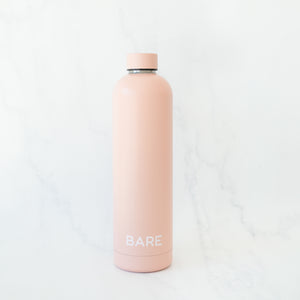 Say hello to our epic stainless steel insulated 1L BARE bottles. These are SUPER amazing to have by your side if you're someone who needs to drink more water during the day (trust me….getting a new bottle is like a revelation… you'll WANT to drink more haha!)
This bottle has a matte feel around the bottle, with a screw top lid (no leaks!). 
Here are some fab deets on the bottles:  
1L Stainless Steel 

Environmentally friendly

Double wall insulated, which keeps your drinks cold or warm for 12 hours.

Comes in SIX colours! Sage, Mint, Light Blue, Soft Peach, Beige & this pink!
Screw top lid 
Small branding, BARE written on the bottom of each bottle 



Washing instructions: 

Wash the bottles by hand - do not use a scourer or harsh bristle brush. 

Soak before use.