Hey legends!
I'm Leah Itsines, BARE co-founder, cookbook author and recipe developer! I am obsessed with food, health and creating delicious recipes, it's my bread and butter (pun intended). This BARE guide is a long time coming! We have so many beautiful new parents within the BARE community, however I didn't want to create a guide without having first hand experience of this stage - because it's SUCH an important topic. 
This guide is much more than a 'what you should do' list, but a true accurate reflection of the realities of pregnancy.  After falling pregnant and looking at what I needed to do/eat/avoid to give my child the best, it became overwhelming and felt almost unrealistic with my morning (or all day!) sickness. So, writing this guide has been an incredible experience I felt really connected and passionate about - because I was really living every moment.
 I have some incredible resources for you that are written in collaboration with our two incredible dietitians, Aleisha and Brittany, who are truly so excited to share this journey with you.
Leah Itsines x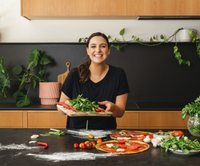 Whats inside Pregnancy BARE
60 Recipes + Meal & Bought Ideas
Delicious, simple, quick and nutritious meals to have throughout your pregnancy journey, based on what you and your bubs needs the most!
Resources by our BARE Dietitian and Fertility & Endometriosis Specialist Dietitian
We teamed up with the best to give you a true, realistic approach to pregnancy while giving you the tools and guidelines to feel and eat your absolute best. Both Brittany and Aleisha are super excited to support you through this journey.
A balanced and realistic (BARE) approach
This guide is a true, accurate reflection of pregnancy, and doesn't just give you a 'should and should not do' list - rather we educate on the what's and why's of pregnancy nutrition, so you can feel confident in your daily decisions.